What a horrible night because of the plane crash outside of Buffalo, New York. Because of the "Miracle On The Hudson" plane crash not too long ago, I knew there'd be another crash soon. Since these things seem to come in 3's, somewhere in the world there'll be another within another week or two. Hopefully not, of course.

To try to lift me up a little, how's about this meme dealie, one I've never done before but it looks like it can be fun...

Friday Fill-Ins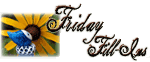 My filled in answers are in Red.

1. It seems like _____ there are a lot of people:

A) who simply cannot admit, perhaps because the Kool-aid has blinded them, that the Obama administration is furthering the ruining of America.

B) who cannot possibly bring themselves to admit that President Bush actually has an I.Q. over 10 AND that because of his actions as President, we were kept safe since 9/11.

2. Clear the table _____ when you're done, please?

3. If I thought you _____ had any brains I'd _____ respect what you're saying!

(But since you're a brainwashed moron, I want you to just go away!)

4. Just another misguided Cult Member _____ is what I think of most when I think of you.

5. To me, Valentine's Day means _____ money for corporations.

6. Spinach _____ gives me strength.

7. And as for the weekend, tonight I'm looking forward to _____ planning to rule the world, tomorrow my plans include _____ buying supplies to accomplish that task and Sunday, I want to _____ go for a leisurely drive in the Albanian countryside while listening to Swedish-Ethiopian punk rock!


Enjoy a Cartoon!
Popeye in "The Spinach Overture"
released: December 7, 1935