Hey how are ya'? Dare I say it? It is starting to feel a little bit like spring this morning. Nice. I am doing much better since my last post. For one thing, I now understand binary! I am not so sure about adding and subtracting in binary, but I understand counting, so that's a start. My instructor is wonderful and I can go to her office hours and ask her. Also, the binary thing is not that important in the big picture of this class. I'm learning to program in Python and that part is challenging and actually kind of fun. So I've been thinking about loops and it occurs to me that sometimes when people just won't stop exchanging insults with people they don't know on the internet it is like an indefinite loop. Rinse and repeat.

It also makes me think of my favorite web comic: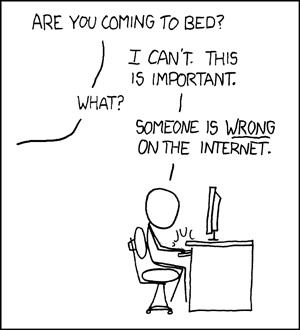 This is from xkcd.

You know what else? I love David Grisman. I really want to go see him play but it looks like he won't be near me any time soon. Maybe I should move to California.